As an Amazon Associate I earn from qualifying purchases.
If you're like the rest of the internet, you've binged Hulu's The Bear in short order. The show is about a high-end chef who comes home to take over his brother's sandwich shop, so the food is definitely front and center. This pasta from The Bear is incredible simple in it's ingredients, but deeply complex in it's flavor profile.
This pasta dish plays a major role in the plot of one of the episodes (no spoilers), and it's one that the characters, and now the internet, are raving about. It's actually a version of spaghetti Pomodoro (or fettucine pomodoro), which is a tomato sauce that has super finely diced, or crushed tomatoes in it. It's been around forever, in various forms, and it's an absolute classic.
The pasta from 'The Bear' (spaghetti pomodoro) highlights tomato as the main flavor. Basil, hot pepper flakes, and garlic all play a supporting role, but tomato is the star of the show.
Check out the web story here.
Jump to:
Other Versions that Inspired Me
Before we go any further - this sauce has actually already been made by some of the cast members of the show! Check out the very awesome YouTube Video here, if you want to see how Matty Matheson would do it. They recreate a bunch of the recipes from The Bear, so it's totally worth checking out.
While I was researching for this recipe (because they don't give you much to go on in the show), I also checked out this Buzzfeed version by Ross Yoder. I tested a couple different versions of this sauce, but I can tell you his tip to make sure you blend the oil, basil, garlic and hot pepper flakes (instead of straining them out) is on point, and totally the way to go.
This version is my own take, but it was for sure inspired by the two recipes above!
Ingredients
The ingredient list is the best part about this dish. It's so so simple.
Spaghetti
Olive oil
Garlic
Basil
Hot pepper flakes
Butter
Onion
San Marzano tomatoes
Parmesan & more basil for garnish
How to Make Pasta from The Bear
Let's walk through my version of this pasta step by step.
First, we're going to make the oil.
Add your oil to a small saucepan over medium-low heat. Right away, add the garlic, hot pepper flakes, and fresh basil (you really want to pack it in there, in my opinion).
Let it cook for 45 seconds to 2 minutes - until the basil is just starting to wilt, and you can smell the garlic. Remove from the heat, and let all those flavors mellow out together while you make the body of the sauce.
Melt some butter over medium heat in a Dutch oven. When it's melted, add your onion, which should simply be cut in half with the skin removed. Place it skin side down in the butter.
Let it cook like that for 3-4 minutes. Keep an eye on the butter, you don't want it to burn.
The onion should just be starting to brown - now's the time to add your San Marzano tomatoes. Roughly crush them with a potato masher if you got whole ones.
Add some salt to taste, cover, and turn the heat down to medium low.
Let it cook away for 20 minutes.
In the meantime, throw your cool(ish) oil in a food processor, and chop it up.
At this point, you should start cooking your spaghetti as well, in salted boiling water.
Add the blended oil to the tomatoes. Cook for another 5 minutes. The key is that we don't want the basil to cook all the way through, and lose it's fresh flavor.
Remove the onions. Add your spaghetti (it should be just under al dente, you can finish cooking it in the sauce!)
Cook for another minute, then serve with fresh parmesan cheese and more basil (and maybe a crack of black pepper as well).
Storage & Reheating
Keep in an airtight container in the fridge for up to three days.
Reheat by gently warming in a large saucepan, adding a little water for moisture.
Other Awesome Pastas to Try
Recipe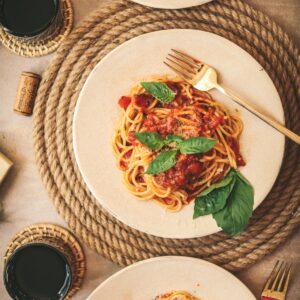 Pasta from 'The Bear' (Spaghetti Pomodoro)
The pasta from 'The Bear' (spaghetti pomodoro) highlights tomato as the main flavor. Basil, hot pepper flakes, and garlic all play a supporting role, but tomato is the star of the show.
Ingredients
½

C

olive oil

light-tasting

6

cloves

garlic

¾

teaspoon

hot pepper flakes

you can adjust to your taste

½-¾

C

basil leaves

packed

½

C

butter

1

onion

cut in half, peeled

3

C

San Marzano tomatoes

1

lb

spaghetti

or fettucine

½

C

parmesan cheese

for serving

extra basil leaves

for serving

salt and pepper

to taste
Instructions
Add oil, garlic, hot pepper flakes, and basil to a small saucepan. Heat over medium low. Once the ingredients start to sizzle, cook for 45 seconds - 2 minutes, until the basil is starting to wilt. Remove from the heat and set aside.

Melt the butter in a Dutch oven over medium heat. Add the onion, cut side down. Cook for 4-5 minutes, until it's just starting to brown. Add the San Marzano tomatoes, and mash with a potato masher until they are broken up into chunks.

Bring to a simmer, reduce heat to medium low, and simmer for 20-25 minutes.

Meanwhile, make your spaghetti according to package directions, minus 2 minutes. You want to get the pasta out just before it's al dente so it can finish cooking in the tomatoes.

Pour your cool(ish) oil in a food processor, and chop.

Add the oil to the tomatoes, and simmer for another five minutes.

Remove the onion. Taste for salt and pepper, and adjust accordingly. Add the spagetti, cook for another two minutes until al dente. Remove to a serving platter, sprinkle with parmesan cheese and fresh basil leaves, and a drizzle of good olive oil.
Notes
Adjust the seasoning as you like in this recipe - use more or less red pepper flakes, and make sure you're on top of the salt situation!
Don't let the butter brown while you're cooking the onion. Keep a close eye on the temperature, and turn it down if you need too.
Nutrition
Serving:
4
oz
Calories:
666
kcal
Carbohydrates:
69
g
Protein:
18
g
Fat:
38
g
Saturated Fat:
14
g
Polyunsaturated Fat:
3
g
Monounsaturated Fat:
18
g
Trans Fat:
1
g
Cholesterol:
46
mg
Sodium:
280
mg
Potassium:
743
mg
Fiber:
10
g
Sugar:
3
g
Vitamin A:
759
IU
Vitamin C:
2
mg
Calcium:
571
mg
Iron:
19
mg
Jump to: