Pancetta is one of those ingredients that is always good to have on hand. But, when you don't, and this happens to me far more than I would like to admit, or you have dietary restrictions, it's great to have a pancetta substitute on hand. This list will guide you through what you can use (both meat and vegetarian, non-pork options), and where the best place to use them is. Let's start with the obvious, and then move down to some of the more surprising options.
How is Pancetta Used?
You can use pancetta pretty much anywhere you use bacon. I do this when I want some salty, fatty flavor but don't want it to overwhelm the entire dish. Honestly, you can use it pretty much anywhere, but here are a few ideas to get you started:
Pasta (I would argue this is by far the most popular way to use pancetta, particularly in carbonara)
Pizza
Soups & Stews
Salad (Caesar salad, specifically)
Quiche
Seafood (like mussels and clams)
Substitution Overview
There's two key factors we're going to try and replicate here for pancetta: the salty flavour, and the fat content/texture. Pancetta itself is a great substitute for any of the things on this list as well, it goes both ways (I cannot tell you the number of times I've swapped bacon for pancetta and vice versa). So without further adieu...
1. Bacon
This is the obvious go-to choice, owing to both the salt and the fat content. But there's a couple of things to keep in mind here. Bacon is smoked, so there's an additional flavor element to consider when you're cooking with it. Plus, bacon is much fattier than pancetta. You may have to pre-cook the bacon and remove some of the fat, or just use less of it. Bacon's flavour is also more powerful in general, so using less might be a good option.
2. Prosciutto
Another great meat-based option with a similar flavor profile to pancetta. The difference between pancetta and prosciutto comes in a couple of different ways. First, pancetta comes from the pig belly, while prosciutto is part of the hind leg. Second, pancetta has to be cooked before it's eaten. Prosciutto, on the other hand, is cured and airdried for months - which is why you love it so much on your charcuterie boards.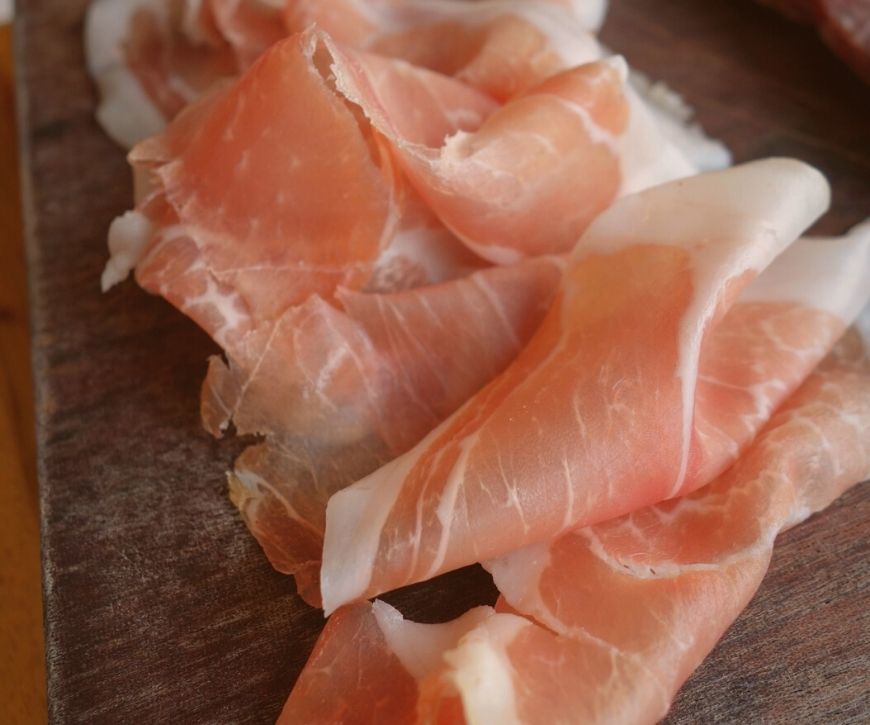 3. Guanciale
This might be my favorite pancetta substitute. Guanciale is made from the cheek of the pig, but is also cured with a deeper flavor than pancetta. Like bacon, it's also fatter, making the meat more tender as well. This is why some people prefer guanciale in their carbonara.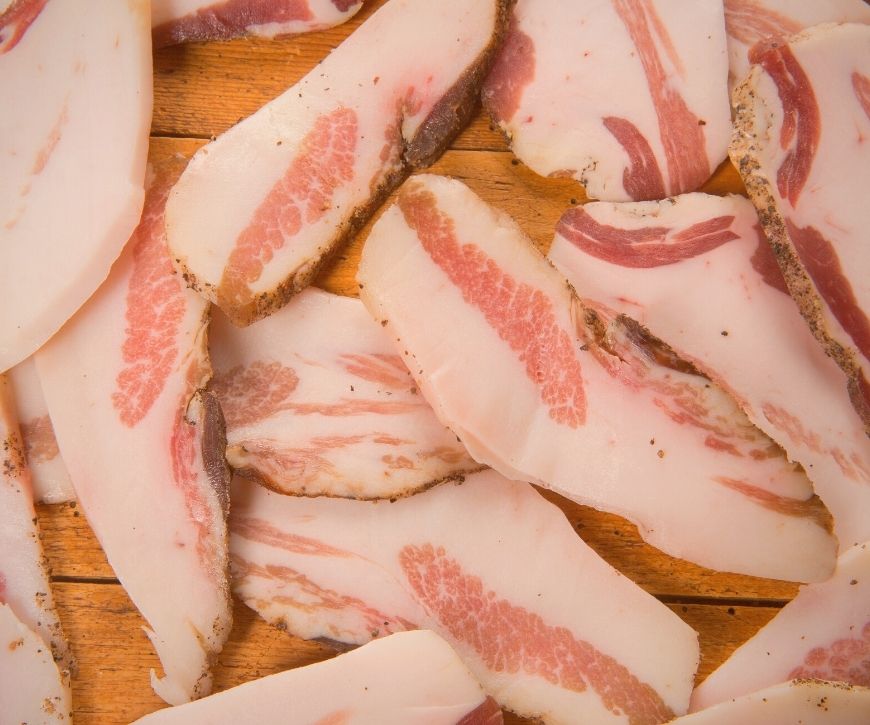 4. Olives
Let's get to some meatless options. Olives check our two boxes: salt and texture. It won't taste like pancetta, but it will definitely bring it's own satisfying flavor to whatever you're cooking.
5. Tofu
I won't lie to use, this is going to take a little bit of work to get it to a place where it can legit be a substitute for pancetta. You're definitely going to want to press it to remove as much moisture as possible and then marinate it. Try this recipe out for some inspiration!
6. (More) Parmesan Cheese
Parmesan and pancetta often go together, holding hands like best friends (likely something to do with pancetta's popularity in pasta. But the salty, umami flavor that parmesan brings to the party is a great substitute for pancetta. Or, if you're already using it, just up the quantity (and invite me to dinner please).
7. Mushrooms
Mushrooms, like parmesan cheese, bring the umami flavor to the dish you're making. My recommendation would be either diced and cubed portabellas or creminis for great texture and flavor, or dried and rehydrated porcini mushrooms (then add some of the hydrating liquid back into whatever you're cooking!).
8. Smoked Paprika
Definitely a little unconventional, but smoked paprika just has the most amazing complex flavor, and reminds me a lot of bacon/pancetta. This could actually lead to some really delicious new dishes I think!
10. Anchovies
We're going to need to talk about umami again (and salt), because these guys pack a punch in both categories. The one thing you likely won't get from anchovies though, is a similar texture to pancetta. Unless you're eating them whole on pizza, you're likely going to half to blend them up. Or, do what I do a lot of the time, and try anchovy paste. Super flavorful and very easy to use and store.
Let's break this down a little bit further: what specific substitutions should you use in popular pancetta dishes?
Pancetta Substitute for Pasta
Bacon, prosciutto, guanciale, parmesan cheese, olives, and mushrooms
You can go with a 1:1 ratio for the meat (watch the bacon though - you might want to cut it back and eliminate some fat) and olives. I would up the parmesan cheese by 50%, and definitely double or triple the mushrooms since they'll cook down.
Pancetta Substitute for Pizza
Bacon, prosciutto, guanciale, olives, tofu, anchovies and mushrooms
I mean for all of this, really measure it with your heart.
Pancetta Substitute for Soups and Stews
Bacon, prosciutto, guanciale, parmesan cheese, smoked paprika and mushrooms
You can go with a 1:1 ratio for the meat (careful with the bacon again). I would up the parmesan cheese by 50%, and even add a parmesan rind to the broth you're cooking (so good). Depending on your mushroom tolerance, I would up it by 50-100%. For the smoked paprika, add about half a teaspoon to start (this stuff is potent!), taste, and keep going from there until it's adjusted to your taste.
Pancetta Substitute for Salads
Bacon, prosciutto, guanciale, parmesan cheese, olives, and anchovies
You can go with a 1:1 ratio for the meat and olives. I would up the parmesan cheese by 50%. For the anchovies, the best way to add them is to put them in the vinaigrette (which is why the paste comes in handy).
FAQ's
Can you substitute pancetta with bacon?
Yes, definitely. Just watch the amount of fat that comes off the bacon. You may also want to use a little less bacon, because it's flavor is so powerful.
What's the difference between pancetta and bacon?
Pancetta and bacon both come from the belly of the big, but they're prepared differently. Pancetta is cured and then tightly rolled into a cylinder to hold it's shape. Bacon is also smoked, while pancetta is not.
Are there meatless substitutions for pancetta?
Yes, you can try marinated tofu, mushrooms, smoked paprika, olives, and parmesan cheese to substitute for pancetta.
Should I use guanciale or pancetta?
Guanciale has a higher fat content and deeper flavor than pancetta does. Once the fat is cooked out, then the complex flavor of the cured meat remains. If given the choice, guanciale may be picked over pancetta for that reason.
Let's Wrap it Up
While pancetta is becoming more and more popular, it's still not something everyone has in their fridge at all times. These pancetta substitutes will satisfy that pancetta flavor, and even let you branch out creatively in the kitchen. If you end up using any of these, let me know how in the comments! I would love to hear about it.