Bison recipes are a little hard to come by, even on the interwebs. I'm going to try and change that, because once you've had it, you'll never go back. Bison short ribs braised until they fall off the bone in red wine? Yes please. You can easily substitute any game meat, or even beef here. If you use beef, the end result will be delicious, but a bit fattier. Be ware: this recipe requires three hours of braising time, so plan accordingly!
I grew up in Southern Ontario, where bison just wasn't a thing, and so my mom's "bison recipes" just didn't exist. It wasn't until I met my husband and started travelling to Western Canada that I was introduced to, and fell in love with, bison.
Does Bison Taste Gamey?
So, let's talk about a few things off the bat.
Bison is considered a game meat. As such, it can be tricky to cook. But once you've mastered it, it's truly delicious. I have definitely had my fair share of hockey puck bison burgers, tough, overcooked bison steak and under seasoned bison roasts. With every single cut of bison, there's a different cooking technique you have to pay attention too. In this particular case, as with most short ribs, they need to be cooked low and slow, preferably in a tasty braising liquid.
I've heard often that game meat tastes...gamey. While that can be true if it's not cooked properly, it's 100% not the case here. Bison has a lighter, slightly sweeter taste than beef, and far less fat. The texture is different too bison has a slightly coarser texture - beef short ribs in my opinion, can come across as slightly greasy. This is why it's my preference for short ribs, and it's going to be yours too, after you try this bison recipe.
Bison is Good for You!
On top of the fact that it has far, far less fat than beef, bison is also packed with iron. Over all, it generally has about 25% less calories than beef, and less total and saturated fat. It's also got tons of iron, so in terms of red meat, it's definitely a good option. And, for all my Keto peeps - this is one of the best options for protein out there!
Bison and Buffalo are not the same thing
While tons of people use these terms interchangeably, they're actually different (and not even that closely related) animals. Buffalo are native to Africa and Asia, while bison are found in North America (and apparently Europe?) Bison are furrier, and have circular horns, while buffalo have less fur and horns that look like a fancy mustache. Fun fact.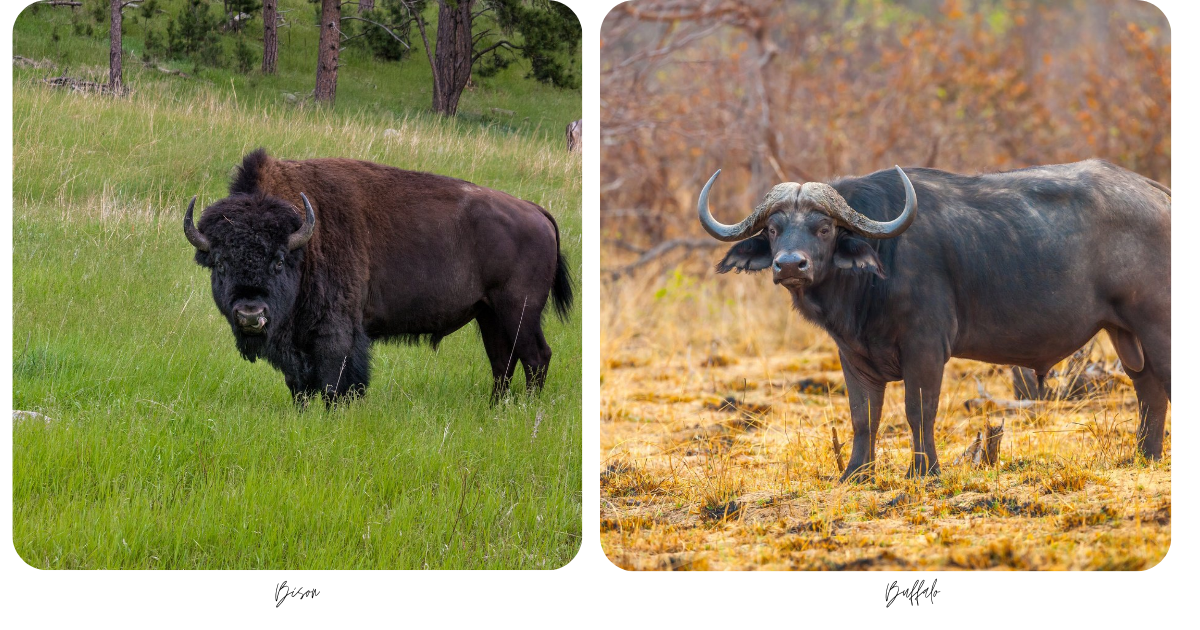 But where do you find it?
This, admittedly could be the tricky part. Luckily, bison is becoming more and more popular, so I'm seeing it consistently in grocery stores. If you live in Western North America, you're likely going to have an easier time finding it than on the Eastern Seaboard, but again - you're seeing it more and more. If you haven't been able to find it in your normal grocery outings, give your local butcher a call to see if they have any, or if they can recommend where you get some.
If you're in Calgary, I highly recommend Rocky Mountain Bison Company.
In Southern Ontario (Wyoming, to be exact) Copper Flats Bison Co.
And, It's Expensive
It can cost up to double what beef costs, because bison farming just doesn't happen in the same large-scale that beef farming does. That's also why you may not bison recipes that often on restaurant menus. There's just less of it, and that makes it cost more. On top of that, bison are usually two years old before they can be sent to market, vs 1.5 years for beef. Bison are a year older before they can have a calf. And, while they need a lot less management then beef, they need better facilities and fences. These things could break through normal fences no problem.
Other Bison Recipes
Obviously, you're going to be hooked after trying this bison recipe, so here's a few more for you to try, from both The Gourmet Bon Vivant and around the web!
Buffalo Flank Steak with Asian Summer Slaw
Bison Strip-Steak with Spicy Red Onion Marmalade
It's Popular at Dinner Parties
I've made this bison recipe many, many times for friends and family, and it is always such a hit. Not only is it delicious from start to finish (it also makes your house smell amazing), but you're often serving it to people who have never eaten game meat before. This is my absolute favourite thing in the world: introducing people to new ingredients and recipes they never would have tried, and having them love it and ask for the recipe (again, many have asked for this recipe!)
You can also experiment with this one. Not a fan of root beer? No problem, try cola instead. Still nah? Apple cider. Feel free to play around with the veggies in the braising liquid too. I think adding parsnips could be delicious! And, if you try this out make sure you let me know! I want to talk to all my other bison fans out there!
Finally - if you live in a cold weather climate like I do, there is nothing like this meal to cheer up a -40F winter night. It sticks to your ribs, satisfies every taste bud, and just generally makes you feel warm, fuzzy and cared for inside.
📖 Recipe
Braised Bison Short Ribs
These short ribs are unbelievably flavourful, tender and make a huge meal to share with friends and family. You may never go back to beef again.
Ingredients
2

tablespoon

olive oil

divided

3

lbs

bison short ribs

bone in

salt & pepper

for seasoning

1

onion, peeled & cut in half

4

cloves

garlic, peeled and smashed

3

carrots, roughly chopped

3

stalks

celery, roughly choped

1

bulb

fennel, cut in half

1

can

root beer

1½

c

red wine

2

c

chicken stock

1

28 oz can

diced tomatoes

5

sprigs

thyme

2

sprigs

fresh rosemary

2

bay leaves

2

teaspoon

sea salt

½

teaspoon

freshly ground pepper
Instructions
Preheat your oven to 325°F.

Heat a Dutch oven over medium high heat. Generously season the bison with salt and pepper. Once the pan is hot, add olive oil and sear the bison on all sides. It should form a deep brown crust. Remove the bison from the pan and set aside.

Let the pan cool off. Wipe clean with a paper towel, and reheat over medium. Add second tbsp. olive oil, plus all the veggies. Let them cook for 10-12 minutes, stirring often, until they start to soften slightly. Add root beer, red wine, chicken stock, and tomatoes. Add your herbs. Return the bison shortribs to the pot. Bring to a boil on the stove top, then cover, and place in the oven for 3.5 hours.

Remove meat to a platter, and strain the braising liquid. Pour some of the liquid over the bison. Serve with polenta, or celery root puree, or mashed potatoes. So delicious, the meat should be falling off the bone at this point. Enjoy!
Nutrition
Serving:
112
g
Calories:
130
kcal
Protein:
25
g
Fat:
2.5
g
Saturated Fat:
1
g
Cholesterol:
70
mg
Sodium:
55
mg
Iron:
15
mg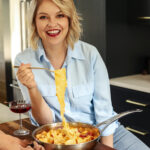 Hi, I'm Cara! I'm a food writer, journalist, and recipe developer. I'm obsessed good food, good wine, good cocktails and entertaining. I've picked up a few tips over the years, and love sharing them with others.