I have a confession to make: I'm addicted to gingerbread syrup. There's just something about the warm, spicy flavor that makes me want to drizzle it on everything from pancakes to ice cream. And while I used to think that gingerbread syrup was only available during the holiday season, I've recently decided that it's a year-round treat that I can enjoy anytime I want.
For those who aren't familiar with gingerbread syrup, it's a sweet, syrupy sauce that's made with a blend of ginger, cinnamon, cloves, and other warm spices. It's typically used as a topping for desserts, but I've found that it's also delicious in coffee, tea, and other beverages. And while you can certainly buy gingerbread syrup at the store, I've found that making it at home is surprisingly easy and allows me to customize the flavor to my liking.
Crafted with brown sugar, fresh ginger, aromatic spices, and molasses, gingerbread syrup is a blend of sweet, spicy, and rich flavors.
So if you're looking for a new way to spice up your meals or drinks, I highly recommend giving this a try. Trust me, once you taste it, you'll be hooked!
Jump to:
The Sweet Saga of Gingerbread Syrup
The sweet, spicy, and oh-so-delicious addition to any coffee or latte. But have you ever wondered about the origins of this delectable syrup? Well, let me tell you the sticky story of gingerbread syrup.
Origins: A Sticky Story
Legend has it that gingerbread syrup was first created in the early 1800s by a group of mischievous elves who wanted to add a little bit of holiday cheer to their coffee. They mixed together molasses, ginger, cinnamon, and other spices, and voila! Gingerbread syrup was born.
Of course, this is just a myth. In reality, gingerbread syrup probably originated in Germany, where gingerbread cookies have been a holiday tradition for centuries. The syrup was likely created as a way to add that same gingerbread flavor to other holiday treats.
The Great Invasion
Fast forward to the present day, and it has become a beloved staple in coffee shops and homes around the world.
With its warm, comforting flavor and sweet aroma, gingerbread syrup is the perfect addition to any cup of coffee or latte. And let's not forget about its versatility - it can also be used to flavor baked goods, cocktails, and even oatmeal.
Gingerbread Syrup: Not Just for Lattes
If you think gingerbread syrup is only good for adding to your latte, think again! This versatile syrup can be used in a variety of ways to add a touch of sweetness and spice to your favorite foods and drinks.
Cocktail Concoctions
Gingerbread syrup can be a great addition to your cocktail game. Mix it with some bourbon and apple cider for a cozy winter warmer, or add it to your favorite vodka and cranberry juice for a festive twist on a classic drink. Don't be afraid to experiment with different spirits and mixers - the possibilities are endless! (See below for more recipe ideas!)
Sweet Savoury Surprises
This syrup isn't just for sweet treats - it can also be used to add a touch of sweetness and spice to your savory dishes. Try drizzling it over roasted sweet potatoes or carrots, or use it as a glaze for your holiday ham. You can even add it to your BBQ sauce for a unique and flavorful twist (again, see below for ideas).
DIY: Brewing Your Own Gingerbread Syrup
If you're a fan of gingerbread lattes or just love the taste of gingerbread, you're going to love this DIY recipe. It's super easy to make and will save you a lot of money in the long run. Plus, you can customize it to your liking and make it as sweet or spicy as you want.
Ingredients
Water: The base of the syrup, providing a neutral liquid to dissolve and carry the other flavors.
Brown Sugar: Adds sweetness with a rich, caramel-like flavor, enhancing the overall depth of the syrup.
Fresh Ginger: Infuses a warm, spicy kick, characteristic of gingerbread. Also adds a fresh and vibrant note.
Cinnamon Sticks: Impart a sweet and woody aroma, enhancing the spiciness and warmth of the syrup.
Whole Cloves: Contribute a pungent and sweet flavor, complementing the ginger and adding complexity.
Star Anise: Brings a licorice-like sweetness and a hint of warmth, adding a unique and festive dimension.
Molasses: Provides a robust, bittersweet flavor, adding richness and authenticity to the gingerbread profile.
How to Make it
The Process
In a medium-sized saucepan, combine the water, brown sugar, and molasses. Stir until the sugar has dissolved.
Bring the mixture to a boil.
Add the ground ginger, cinnamon, nutmeg, and cloves to the saucepan and stir until everything is well combined.
Reduce the heat and let it simmer for 15-20 minutes. The syrup should thicken slightly and become more syrupy in texture.
Remove the saucepan from the heat and let the syrup cool for a few minutes. Strain the syrup through a fine-mesh sieve to remove any lumps or spices.
Transfer the syrup to a clean glass jar or bottle and store it in the refrigerator for up to 1 month.
It's is perfect for adding to coffee, tea, or hot chocolate. You can also use it as a topping for pancakes or waffles, or drizzle it over ice cream for a festive dessert. The possibilities are endless!
Serving Suggestions
One of my favorite ways to use this syrup is in cocktails. It adds a warm, cozy flavor that's perfect for the holiday season. Here are a few of my go-to recipes:
Gingerbread Martini: Combine 1 oz vodka, 1 oz gingerbread syrup, 1 oz coffee liqueur, and 0.5 oz of Irish cream liqueur in a shaker with ice. Shake well and strain into a chilled martini glass. Garnish with a sprinkle of cinnamon, and a gingerbread cookie, obviously.
Spiked Gingerbread Hot Chocolate: Heat up your favorite hot chocolate and stir in 1-2 tablespoon of gingerbread syrup. Add a shot of Bailey's or Kahlua for an extra kick.
Gingerbread Old Fashioned: Muddle an orange slice, a cherry, and a dash of bitters in a glass. Add 2 oz bourbon and ½ oz gingerbread syrup. Stir well and add ice. Garnish with a cinnamon stick.
Sweet Savoury Surprises
Gingerbread syrup isn't just for sweet treats. It can also add a unique flavor to savory dishes. Here are a few ideas to get you started:
Gingerbread Glazed Ham: Mix together ½ cup gingerbread syrup, ¼ cup Dijon mustard, and ¼ cup brown sugar. Brush the mixture over a ham and bake according to package instructions.
Gingerbread BBQ Sauce: Combine 1 cup ketchup, ½ cup gingerbread syrup, ¼ cup apple cider vinegar, 1 tablespoon Worcestershire sauce, and 1 teaspoon smoked paprika in a saucepan. Simmer for 10-15 minutes, stirring occasionally, until thickened.
Sweet Potato Casserole: Mix together cooked sweet potatoes, ¼ cup gingerbread syrup, ¼ cup brown sugar, ¼ cup melted butter, and a pinch of salt. Top with marshmallows and bake until golden brown.
Storage
Store it in a sealed container in the fridge. It should last up to two weeks. Make sure to refrigerate promptly to maintain freshness.
Pro Tips and Tricks
Enhance Aroma: Toast the whole spices (cinnamon sticks, cloves, and star anise) in the pan for a minute before adding other ingredients for a heightened aromatic experience.
Customize Sweetness: Play with the brown sugar quantity to find your perfect balance between sweetness and richness.
Double Up: Make a larger batch and gift small bottles to friends – it's a delightful holiday present.
Infusion Time: Let the syrup simmer longer for a more concentrated flavor. Taste as you go to achieve your desired intensity.
Drizzle and Decorate: Use a squeeze bottle for easy drizzling on desserts or as a decorative touch on drinks.
Frequently Asked Questions
Can I put gingerbread syrup on everything?
Absolutely! Gingerbread syrup is a versatile flavor that can be added to almost any food or drink. From coffee to ice cream, gingerbread syrup can be used to add a festive touch to any dish.
Is there a sugar-free option for gingerbread syrup?
Yes, there are sugar-free options available for gingerbread syrup. These options are perfect for those who want to enjoy the delicious flavor of gingerbread syrup without the added calories.
What's the best cocktail to use gingerbread syrup in?
The best cocktail to use gingerbread syrup in is a gingerbread martini. Simply mix gingerbread syrup, vodka, and cream, and garnish with a gingerbread cookie. It's a delicious and festive drink that's perfect for the holiday season.
More Awesome Recipes
📖 Recipe
Gingerbread Syrup
A luscious blend of brown sugar, fresh ginger, and festive spices, this homemade syrup adds a touch of warmth and depth to your drinks. Perfect for creating delightful gingerbread lattes and festive cocktails. Cheers to the holiday spirit! 🎄☕🍹
Ingredients
1

C

water

1

C

brown sugar

2

inch

chunk of ginger

peeled

2

cinnamon sticks

6

cloves

1

star anise

2

tablespoon

molasses
Instructions
Combine water and brown sugar in a saucepan over medium heat.

Stir until sugar is dissolved.

Add fresh ginger, cinnamon sticks, cloves, star anise, and molasses.

Simmer for 10-15 minutes, stirring occasionally.

Remove from heat and let it cool.

Strain the syrup to remove ginger bits and whole spices.

Store in a sealed container in the fridge for up to two weeks.
Notes
Experiment with the spice levels by letting the syrup simmer longer for a bolder taste.
Store the syrup in a sealed container in the refrigerator for up to two weeks.
Get creative! This versatile syrup is perfect for not only drinks but also drizzling over pancakes, ice cream, or using as a sweetener in baking. Enjoy the festive flavors! 🌟
Nutrition
Serving:
1
oz
Calories:
987
kcal
Carbohydrates:
255
g
Protein:
1
g
Fat:
1
g
Saturated Fat:
0.1
g
Polyunsaturated Fat:
0.2
g
Monounsaturated Fat:
0.2
g
Sodium:
94
mg
Potassium:
992
mg
Fiber:
5
g
Sugar:
244
g
Vitamin A:
26
IU
Vitamin C:
1
mg
Calcium:
358
mg
Iron:
5
mg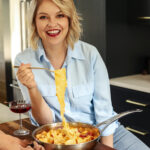 Hi, I'm Cara! I'm a food writer, journalist, and recipe developer. I'm obsessed good food, good wine, good cocktails and entertaining. I've picked up a few tips over the years, and love sharing them with others.