This pasta without sauce (or pasta with garlic and olive oil OR aglio e olio, it goes by many names), is basically the grown-up, gourmet version of buttered noodles. Technically, it does have a sauce. The oil, garlic, cheese and pasta water come together to create the barest of coatings for the pasta (debatable though, whether you would call it a full on sauce).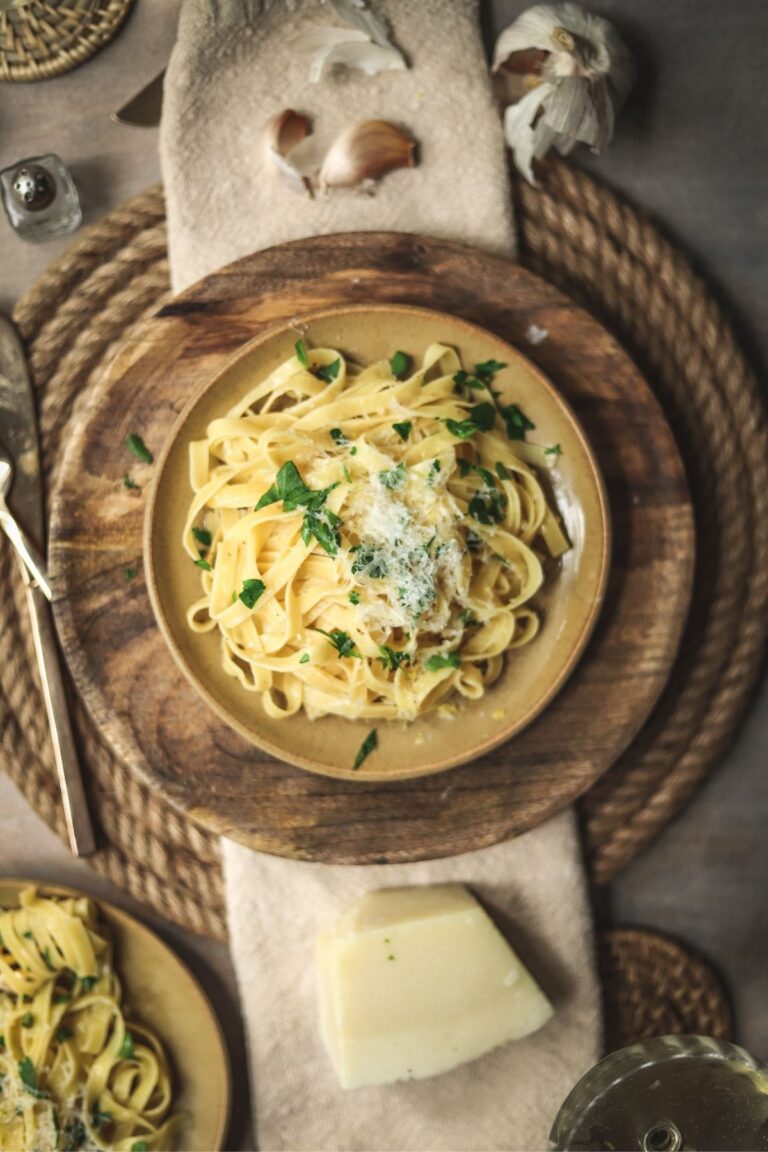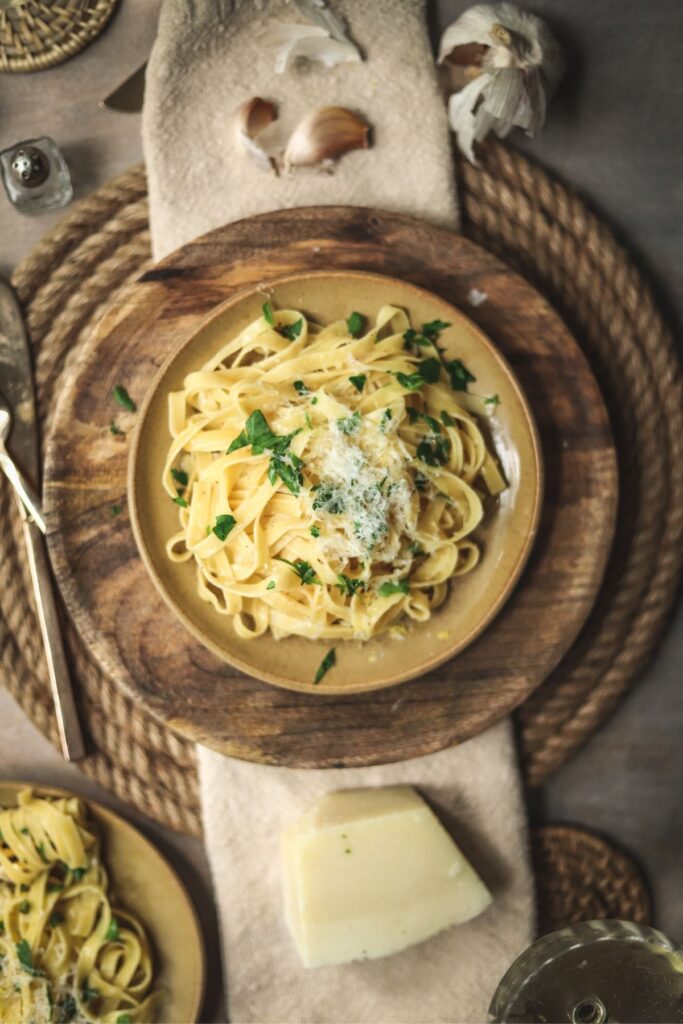 This pasta is delicious in its simplicity. It lets the garlic shine, and in this version we add just a hint of lemon zest and some fresh parsley at the end for freshness. This ain't your childhood buttered noodles (although no shame if you still love the classic macaroni with butter and parmesan cheese straight from the can. I do.)
The garlic, olive oil, cheese and pasta water do the most in this pasta without sauce. It's quick, simple, and greater than the sum of it's parts.
Perfect for a light summer meal with a crisp glass of white wine, or as a side dish to any seafood recipe, you'll come back to this recipe over and over again.
Check out the web story here.
Jump to:
What is "No Sauce Pasta"?
This pasta is made with almost nothing coating the noodles. It's olive oil, garlic, pasta water and cheese. It's so delicious, and it's really the closest you can come to to having pasta without any sauce. No tomatoes, no tomato sauce, no carbonara sauce, no cream, no butter, no meat, no vegetables, nothing. This pasta is super popular, and is also known as aglio e olio, and translates to spaghetti with garlic and oil in English.
The traditional dish really does only include pasta, oil, and garlic and sometimes red pepper flakes. So even the cheese, lemon and parsley we add here are optional.
Why You're going to love this Recipe
It's ridiculously easy. Like, if you were approaching an oven or boiling water for the first time, you could probably make this. Just don't burn the garlic.
It takes less than 10 minutes to make. The "sauce" will be done by the time your pasta has finished cooking.
It requires like, 3 ingredients. We're adding a few extra, but all you actually need is pasta, olive oil, and garlic. Still delish.
It feels gourmet despite everything listed above - because it's so so good. Want to feel like you have your life put together? Make this on a Friday night after work and pour yourself a glass of wine, and watch Keeping up with the Kardashians reruns the news.
It also works great as an easy side dish!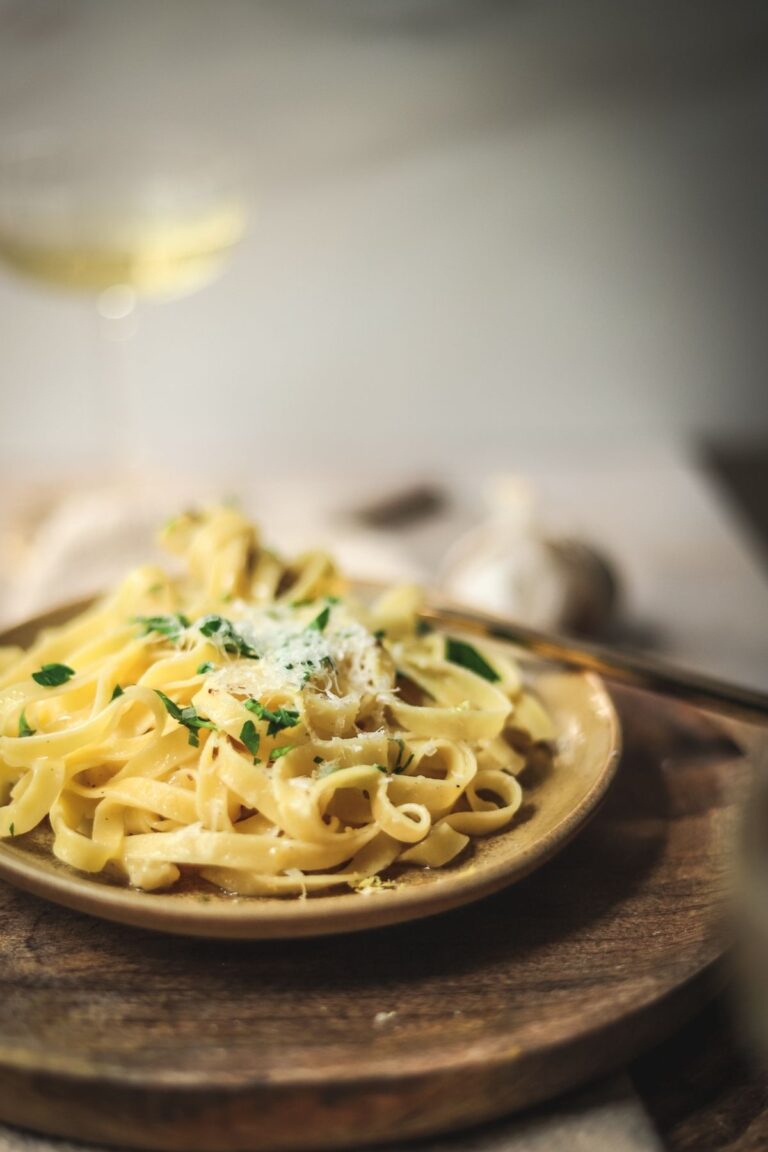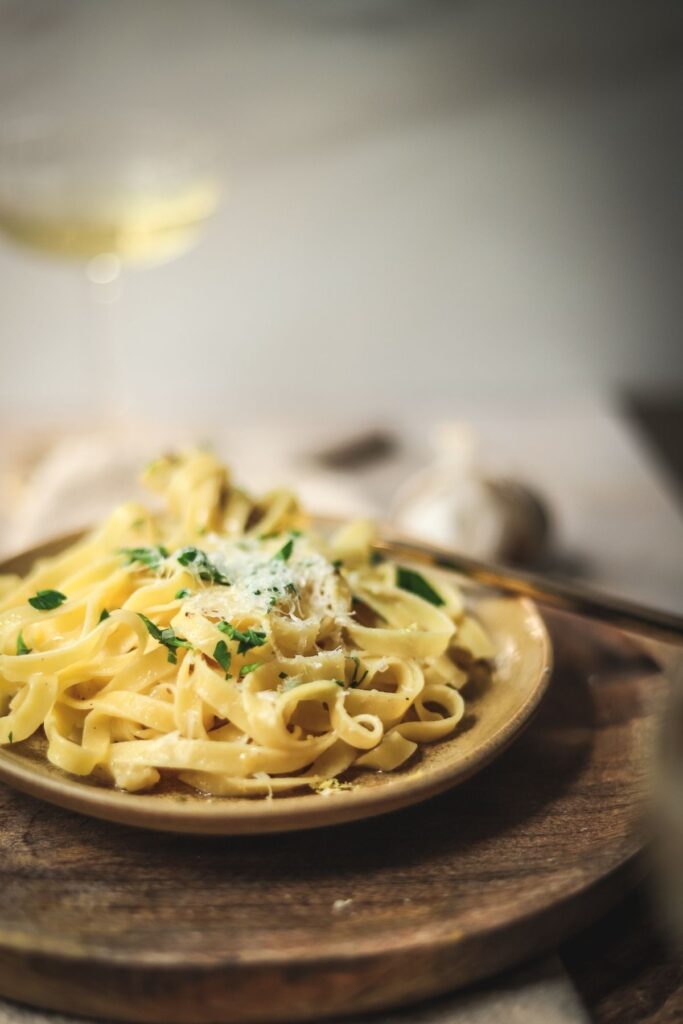 How do you Pronounce Aglio e Olio?
Great question. It's ah-lee-oh eh oh-lee-oh. The g is silent!
Ingredients
This might be my favourite part about this recipe. The ingredients are as follows (and the vast majority of them are totally optional):
Pasta: something like fettucine, linguine spaghetti works really well with this dish. Ooo! Angel hair would also be good.
Garlic: lots of it. It's basically the only thing flavoring the dish, so go to town.
Olive oil: try to make this a good quality one - again, it's going to carry most of the dish on it's own.
Pasta water: this is actually optional. We're going to add about a quarter cup, but you can definitely get a way with just slinging the pasta from the pot it cooks in right into you pan. It'll be enough.
Parmesan cheese: also optional. But delicious.
Lemon zest: also optional. I just like the brightness at the end, but not necessary.
Parsley: same as above.
Hot pepper flakes: up to you. If you add them, add them at the same time as the garlic.
How to Make Pasta without Sauce
It's almost as easy as the ingredient list.
First, bring a pot of water to boil, and start cooking your pasta. Make sure you salt the water! This is super important, especially for a dish with so little other ingredients.
Heat your olive oil in a saucepan over medium heat.
Add the garlic, and stir often, ensuring that it doesn't burn. At this point, add the hot pepper flakes if you're using them.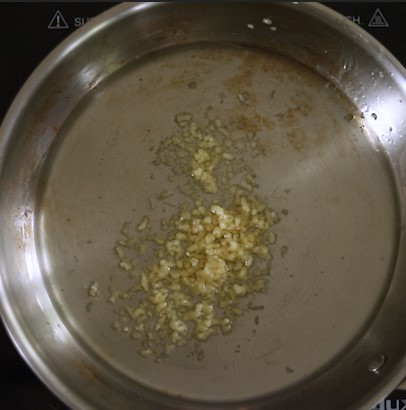 Add the pasta straight from the pot, along with a ¼ cup of pasta water, and parmesan cheese. Stir until the cheese is melted.
Toss to coat everything.
Add the lemon zest and parsley right at the end, basically as a garnish.
Enjoy!
Variations
You can use this recipe for pasta without sauce as a starting block for basically any flavors you want to experiment with. Here's a couple of ideas on how you could switch it up.
Try different herbs. Anything fresh like basil, thyme or oregano would work. I also think rosemary could be pretty interesting!
Add your favorite protein. Shrimp would be particularly amazing.
Add lemon juice as well as lemon zest for a bright, tart flavor.
Add a tablespoon of butter for richness.
Other Amazing Pasta Dishes
Yes I love lobster and pasta together. No I won't apologize for it.
Recipe
Pasta without Sauce (Aglio e Olio)
The garlic, olive oil, cheese and pasta water do the most in this pasta without sauce. It's quick, simple, and greater than the sum of it's parts. It takes no time at all to whip up, and you likely have most of the ingredients already. It's really the dish that does the most.
Ingredients
8

oz

dried pasta

such as spaghetti

4

tablespoon

olive oil

6-8

garlic cloves

minced

¼

C

pasta water

reserved

¾

C

parmesan cheese

grated

salt and pepper

to taste

2

tablespoon

parsley

chopped

1

tablespoon

lemon zest
Instructions
Cook pasta according to package directions. Reserve ¼ cup of the pasta water.

While the pasta is cooking, heat up a saucepan over medium heat. Add the olive oil, and the garlic. Stir frequently until the garlic is soft and fragrant, about 2-3 minutes.

Add the pasta and pasta water to the pan. Add the parmesan cheese, and season with salt and pepper. Toss thoroughly to coat all the pasta.

Add the parsley and lemon zest. Toss to combine.
Notes
Whatever you do, don't burn the garlic. This is super easy to do, and is the fastest way to ruin this dish. Keep an eye on how hot your pan is, and when in doubt, set it for lower than you think you need it. It's way easier to turn it up than to turn it down after the damage has already been done!
Nutrition
Serving:
250
g
Calories:
416
kcal
Carbohydrates:
45
g
Protein:
14
g
Fat:
20
g
Saturated Fat:
5
g
Polyunsaturated Fat:
2
g
Monounsaturated Fat:
12
g
Cholesterol:
13
mg
Sodium:
307
mg
Potassium:
175
mg
Fiber:
2
g
Sugar:
2
g
Vitamin A:
316
IU
Vitamin C:
6
mg
Calcium:
247
mg
Iron:
1
mg
Jump to: