As an Amazon Associate I earn from qualifying purchases.
This French dip sandwich recipe is a classic - the only recipe you'll ever need. French dips have to be right up there with my all time favorite sandwiches, and after trying this recipe, they'll be some of yours too!
There's something super special about this French dip sandwich (honestly, about all French dips). It's everything from the succulent beef, the the melty provolone cheese, the crusty roll, and of course the au jus. The au jus is really what brings this entire sandwich together. We're going to add some extra savory-ness by throwing in a rosemary oil, and trust me, you won't be looking back.
Jump to:
What is a French Dip Sandwich?
A French Dip sandwich is a hot sandwich on a crusty, toasted roll. It has tender pieces or slices of beef, melted cheese, and is served along side an "au jus" for dipping. Au jus means with broth in French. And honestly, it kind of tastes like dipping your beef sandwich into French onion soup, which like, yes please.
What is Au Jus?
Usually, the au jus is just the liquid that the beef is braised or roasted in. It usually includes beef broth, onion, and thyme, among other flavorful ingredients.
Origins
While it's called a French Dip, this is most definitely not a French creation. We don't know the full story, but there's two main theories about who, and how the French Dip sandwich recipe was created. First, Philippe Mathieu, owner of Phillippe the Original in L.A. says that he invented the sandwich in 1918 after he dropped a roll in pan full of roasting juices, and the customer said they would eat it anyway. The second contender is another L.A. restaurant called Cole's, who said they invented the sandwich in 1908 for a customer that had sore gums, and needed crusty bread to be softened with juice so he could eat it.
French Dip vs. Beef Dip
There's some debate about this - but often the terms "French Dip" and "Beef Dip" are used to describe the same type of sandwich. However, there is also a sandwich called the Italian Beef sandwich, which is sort of similar but also has some distinct characteristics. The Italian beef sandwich usually uses cuts of steak slowly braised in lots of herbs, spices and garlic. Instead of au jus, there is a thicker gravy served with the Italian beef sandwich.
Is it Healthy?
Honestly, no, not really. While they include lots of protein from the beef, they're also high in salt and fat. Definitely an occasional indulgence.
Which Cut of Beef to Use
There's lots of debate around this as well - and people use every different cut of beef to make French Dip sandwiches, including steak, prime rib, shaved deli beef, or a chuck roast. We're going with an oven roast (because it was all I could find), but given the choice I would do a chuck or a rump roast.
Cooking Method(s)
There are also plenty of cooking methods, but somehow attaining a super tender bite is key. Usually, this means slow roasting in some braising liquid. So you can definitely use your Instant Pot or pressure cooker (see instructions below) - but you can also make it in a Dutch oven and roast it that way too. In this case, I'm going to be using my Instant Pot.
Ingredients
The ingredients aren't complicated, and there's plenty of umami flavor to go around here!
Chuck roast: one of the best cuts for slow roasting - it's amazing and so tender, especially with the au juice.
Salt & Pepper: for seasoning the beef and the jus
Red wine: amazing flavor and helps to deglaze the pan
Beef broth: packed with flavor and keeps everything nice and moist the whole way through the roast.
Onion: perfect flavoring
Rosemary: tastes lovely and add so much to the beef flavor
Dijon: goes amazing with beef, and deepens the flavor of the whole dish
Provolone or Swiss Cheese: Both melt amazingly well and compliment the herbs and beef flavor
Crusty, sturdy bread or rolls: that will soak up all the delicious au jus
Rosemary oil (optional): recipe included below.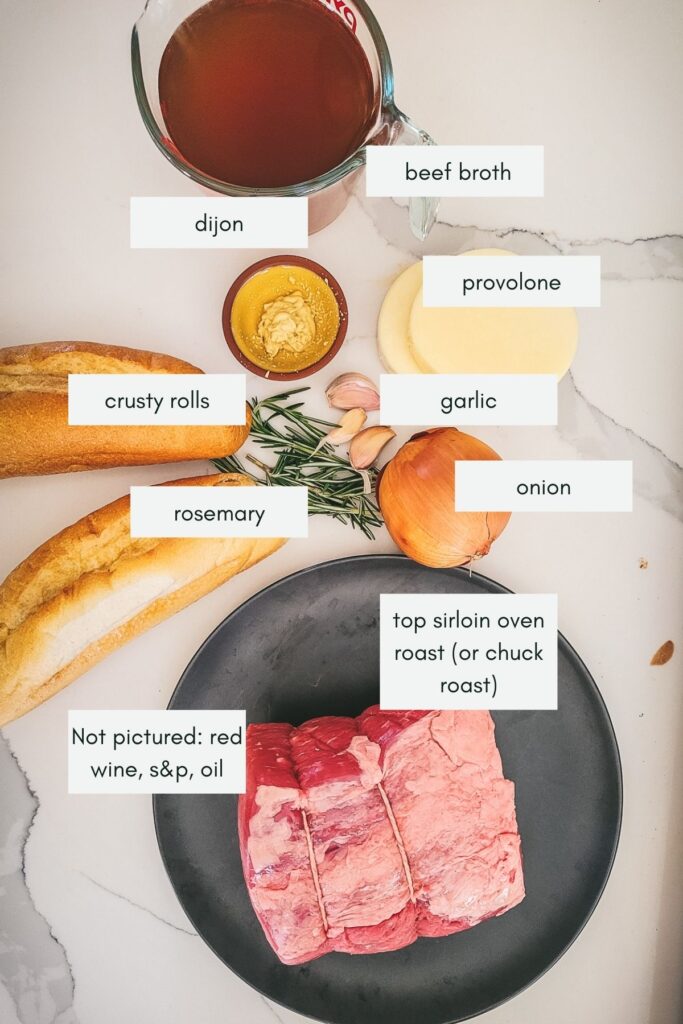 Making the French Dip
Making this easy French Dip sandwich recipe is super simple, but if you're going for the slow cooker option it does take some planning ahead. Luckily, slow roasting the beef means that the meat is super tender, and practically melts-in-your-mouth while you're eating it. Yes please!
To start, let's heat some oil in a cast iron skillet or Dutch oven. Season the beef with salt and pepper, and then sear it on all sides until deep brown in color (Note: if you want to keep going in your Dutch oven, and cook it low and slow for 3-4 hours instead of doing it in the slow cooker, that is definitely an option).
Note - As I'm making this in my Instant Pot, that's where I've seared it. The ingredients are the same, however.
Once the beef is seared, place it in your slow-cooker. Add the rest of the ingredients: wine, broth, onion, garlic, Dijon rosemary. Cook on low heat for 7-8 hours, or on high heat for 4-5 hours.
Once it's done, remove the beef to a cutting board and shred it with two forks. Strain the cooking liquid, reserving for serving (that is the au jus!).
Next, we're going to assemble the sandwiches. Cutting your rolls in half, spread with butter, and cover one half with the cheese slices. Place in the oven near the top, on broil. Let it broil for 2 minutes, watching carefully to make sure the rolls don't burn. Remove.
Let's make the rosemary oil: just combine fresh, chopped rosemary with garlic and olive oil, and let it sit for about 10 minutes to have the flavors meld together.
Spread the rosemary oil on the roll (on the opposite side of the cheese). Broil the buns in the oven using the second highest rack for 3-5 minutes. Keep a very close eye on them, or they will burn. Place a healthy serving of the beef on each of the rolls. Gently spoon a little of the au juice over the meat to keep it moist. Close the sandwiches, and divide the au jus into individual bowls for each person.
Serve it up!
Instant-Pot Method
The recipe is basically exactly the same. Sear the roast on the sear setting, then add all the other ingredients (wine, broth, onion, garlic, Dijon, rosemary). Set the Instant Pot to pressure cook on high for 60 minutes, and let it release naturally for about 15 minutes. Strain the cooking liquid (au jus), and place it in a separate bowl. Shred the beef, and continue assembling the sandwiches as described below.
Make the Au Jus (Sauce)
This part is easy - you've already made it when you cooked the beef! See the above section.
What To Serve with the French Dip
There are SO MANY amazing side options for a French dip - here's what I'm definitely thinking about!
Recipe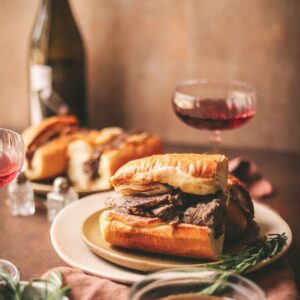 French Dip Sandwiches with Au Jus
French Dip (or beef dip) sandwiches have to very close to the Queen of all sandwich recipes for me. Succulent, juicy beef, melty cheese, crusty rolls, and all dipped in a flavorful beef broth? Done and done. Plus, it's pretty easy to make these for a crowd, and trust me, they will be raving.
Equipment
Instant Pot or Slow-Cooker
Ingredients
3-4

lb

chuck roast

or, any kind of roast you can find

1

tablespoon

olive oil

½

teaspoon

salt

½

teaspoon

pepper

½

C

red wine

1

onion

cut in half

3

cloves

garlic

smashed

2-3

rosemary

springs

2

teaspoon

Dijon Mustard

2

C

beef broth

8

crusty rolls

provolone cheese

sliced
Rosemary oil
4

tablespoon

olive oil

2

cloves

garlic

diced

2

tablespoon

rosemary leaves

finely chopped
Instructions
For the Sandwiches
Preheat your Instant Pot to the sautee function.

Rub the olive oil, salt and pepper all over the roast.

Sear on all sides until deeply brown (it should be about 3-5 minutes per side.

Add the red wine, trying to scrape up the brown bits from the bottom.

Add the garlic, onion, rosemary, Dijon and beef broth. Place the lid on the Instant Pot, and set to pressure cook on high. Set the timer for 60 minutes, then release.

Preheat your oven on the broil setting. Adjust the oven rack to second from the top.

Depending on the roast you're using, either thinly slice the beef, or shred it with a fork. Strain and reserve the cooking liquid (this is your au jus, or dipping sauce).

Make the rosemary oil: combine the oil, garlic and rosemary in a small bowl, and combine.

Cut your crusty rolls in half. Line one side with provolone cheese, and spoon some of the rosemary oil on the other half.

Broil the rolls for 3-5 minutes, until crusty and the cheese is melted (keep an eye on them, they will burn easily).

Lay a generous serving of beef on each sandwich. Drizzle a little of the au jus over the beef. Close up the sandwich and serve along side a small bowl of the au jus.
Video
Notes
You can make this recipe using just about any kind of beef roast you want! Feel free to try it out with different kinds.
When you're broiling the rolls and the cheese DO NOT WALK AWAY. I did the first time and had to start over.
Nutrition
Serving:
1
sandwich
Calories:
531
kcal
Carbohydrates:
24
g
Protein:
37
g
Fat:
30
g
Saturated Fat:
10
g
Polyunsaturated Fat:
3
g
Monounsaturated Fat:
17
g
Trans Fat:
1
g
Cholesterol:
117
mg
Sodium:
769
mg
Potassium:
701
mg
Fiber:
2
g
Sugar:
1
g
Vitamin A:
41
IU
Vitamin C:
2
mg
Calcium:
88
mg
Iron:
5
mg
Jump to: