Gen Alpha's adventurous palate is changing the way restaurants think about what they offer on their kids menus, according to a new report from Datassential. Some of the top growing items over the last four years include wagyu beef (up 295%), sriracha (up 229%), and Pho (up 83%).
Gen Alpha is defined mainly as the children of Millennials (born between 2011 and 2023).
According to Huy Do, who wrote the report, Millennials pass their food habits on to their kids.
"Thanks to their parents, Gen Alphas are already developing diverse palates and brand preferences," says Do. "Most [Gen Alpha] parents find it important to let their kids build a taste for healthier foods...and nearly two in three want kids to try new and unfamiliar foods, whether at home or away from home."
The Foodie Generation
Millennials helped to shape the 'foodie' generation - and access to media surrounding food was vital. "Between Chopped, Food Network, cable programming, and social media, there were so many ways for Millennials to constantly engage with the latest and greatest food content," Do says. "Social media and technology facilitated this transition from food as sustenance to food as a vehicle for storytelling, self-expression, and self-identification - hence the name 'foodie.'"
56% of Millennials say they love trying new foods, which is higher than any other generation. It's a value that they're passing on to their kids.
Raising Adventurous Palates
For Deirdre Gilna, a food blogger and mom of two kids, ages seven and 11, it was essential for her to prioritize adventurous eating early on. "I did make an effort from the very start to get them to be good eaters," she says. "My stepson, who is much older, was a very picky eater, so that was partly why it was a concern for me."
Gilna says she did baby-led weaning with her kids to build her kid's adventurous palates. This process allows kids to explore and eat what they want from a young age, skipping the need for traditional baby food and purees.
"They would try to eat the same foods as us from a very young age. We eat a large range of homemade meals, veering between Indian, Mexican, Tex-Mex, Italian, Japanese, Chinese, Irish and Spanish," she notes. "They're quite adventurous and have even tried insects."
Restaurants Responding
Restaurants are taking note. According to the Datassential 2023 Trends Research Report, 35% of food service operators say Gen Alpha is "very" or "extremely" important to their business. As a result, the kids' menus in restaurants are becoming more and more varied.
For example, Capriotti's national sandwich chain features a wagyu cheese steak kids menu option. It includes sliced wagyu, mushrooms, onion, and white American cheese.
Alternately, Gen Alpha is also more well-versed in a variety of different types of cuisines. Mexipho in Glastonbury, CT, offers Pho with shredded chicken, rice noodles, and hot broth, made fresh to order. They also offer quesadillas, tacos, or burrito bowls. Owner Antonio Melendez says that kids - and parents - love it.
"I really see that kids are coming to be more educated about food. They even love eating spicy salsa on their food - it's amazing," he says. "We would just kind of look at [the parents] and say, 'is that ok if we put spicy salsa on it?', and they would say 'oh yeah, they love it!'".
And the kids don't stop at just eating the food at Mexipho. "The kids are wanting to be chefs, and they comment on our Facebook page...which is something I've never seen in my over 25 years in the business," Melendez says.
Gilna, for her part, often takes her kids to restaurants to eat. If the menu is full of traditional kids menu offerings, like chicken nuggets, fries, or marinara pasta, they'll typically skip it in favor of the regular menu.
"They like to try out different things; if the kids menu looks interesting, they'll have it," she says. "But they usually end up going for something from the main menu as the kids' menus are normally not great."
Social Media Savvy
In addition to being encouraged by their food-loving Millennial parents to try a broader range of foods, Gen Alpha is also profoundly influenced by the food trends they see and hear about online. Datassential most recent research shows that 84% of Gen Alpha's are viewing content on YouTube, and 51% are on TikTok.
"Both of these platforms are abundant in food content," says Do. "We're seeing these habits translated into actual preferences and behavior." For example, 56% of Gen Alpha's parents say they buy their kids new foods they've seen on TV or online.
Between growing up online and with foodie Millennial parents, Gen Alpha is being exposed to many different foods, flavors, and trends - and they're already moving the needle for the restaurant industry.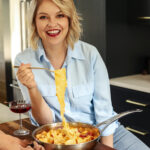 Hi, I'm Cara! I'm a food writer, journalist, and recipe developer. I'm obsessed good food, good wine, good cocktails and entertaining. I've picked up a few tips over the years, and love sharing them with others.