As an Amazon Associate I earn from qualifying purchases.
There is nothing quite like a good homemade Caesar salad dressing. This recipe is the real deal, made completely from scratch, including eggs and anchovies (although I give you some options for substitutions). It's originally my dad's recipe, and it's been tested over and over again by my entire family. It's the best Caesar salad recipe you will ever eat, I promise.
How did the Caesar Salad get it's Name?
While it might seem like an obvious answer, the Caesar salad was not, in fact, named after the Roman Emperor Julius Caesar. It was actually invented by an Italian chef named Caesar Cardini during the Prohibition era in the United States. While he was born in Italy, Cardini moved to the U.S. and opened a few restaurants before eventually going on to invent this iconic side dish. But, Prohibition played a big part here. When alcohol was outlawed, his restaurants in the States took a huge hit, so Cardini moved to Tijuana, Mexico, which is actually where he invented the salad.
The origin story of how Cardini actually invented the salad is a bit of a mystery. His daughter says that one day while he was cooking, Cardini ran short on some ingredients and then just threw it together with what he had (this honestly makes sense to me. Who things to put this combination together?). For some additional drama to not disappoint his customers, he made it tableside (this is a bold choice for something you just "threw together" IMO). Another story is that his brother, who also opened restaurants in Mexico is the true inventor of the salad (but then why isn't it called the Alex salad?). Finally, yet another story is that it was actually an employee of Cardini's who came up with the dish, and then Cardini just took all the credit (tbh, this is also believable).
Can you make Caesar Salad without Anchovies?
You can, yes. Actually, according to the inventor himself, it's supposed to be the Worcestershire sauce that gives the salad the unique, slightly fishy taste. In this recipe, I use both, but feel free to skip the anchovies and double the Worcestershire.
Another option if you have an aversion to anchovies is to try anchovy paste. It's still made from anchovies, but it's a lot easier to work with than the fillets, and you can control how much of that anchovy taste you actually want in the dressing. I've made this salad using paste before, and it works really well. Try using about 2 tsp. in this recipe for a start, and go from there. You can always add a bit more to the dressing at the end.
Ingredients in a Homemade Caesar Salad Dressing
Speaking of anchovies and Worcestershire sauce, the ingredients for the Caesar salad vary from place to place. Usually though, there are these six key ingredients:
Romaine lettuce
Eggs
Olive oil
Croutons
Worcestershire sauce
Parmesan cheese
In this recipe, we're using all that, plus:
Anchovy fillets
Garlic
Dijon mustard
Lemon juice
A dash of hot sauce (optional)
The best part about this dressing is that even though it's homemade, it's incredible easy to make. Essentially we're going to throw most of these ingredients in a food processor, blend until smooth, and then slowly add the olive oil until thick.
What to Serve Caesar Salad With
Caesar salad is a staple at steakhouses, and really, it goes so well with a beautifully grilled steak. That's always a good bet. But, I've found it's also great with a roast chicken, salmon, a pasta with a red sauce, and honestly anything you can really think of that works. It's just so good. Here are a few of my recipes that would be a great addition to serve with a creamy Caesar dressing with:
Easy Herb Crusted Rack of Lamb
Maple-Chipotle Fried Chicken Sandwiches
Honestly, the sky's the limit with the Caesar. That's why it's such a great recipe to have in your rotation.
Can you make Caesar Salad Dressing Ahead of Time?
Totally. I've made it up to a day in advance, and I daresay the flavour gets even better overtime. If you find the dressing a bit too thick after it sits in the fridge, just whisk in another little splash of olive oil to loosen it up.
Can you eat Caesar Salad Dressing when You're Pregnant?
So, because of the raw egg in this particular recipe, it's likely safest to avoid this dressing while you're pregnant (the raw egg carries a risk of salmonella). To make it safe, I would swap out the egg and the olive oil, and use 1 cup of store bought mayonnaise instead. The anchovies are safe to eat!
📖 Recipe
Homemade Caesar Salad Dressing
Homemade Caesar salad dressing is so satisfying, and so easy to make. This classic staple can always be served at dinner parties when you're running low on creativity. This dressing in particular has been developed over the course of years, and it's the best of the best!
Equipment
Food processor or blender
Ingredients
Dressing
1

clove

garlic

cut in half

1

egg

1

teaspoon

Worcestershire sauce

1½

teaspoon

Dijon mustard

the juice of half a lemon

2

anchovy fillets

2

dashes

hot sauce

optional

½

C

olive oil
Salad
6

slices

bacon

1

C

grana pardaro parmesan cheese

8

slices

baguette bread

1

head

Romaine lettuce

washed, chopped in long pieces
Instructions
For the Dressing
Combine the garlic, egg, Worcestershire sauce, Dijon mustard, lemon juice, anchovies and hot sauce in a food processor. Blend until smooth.

With the food processor still going, slowly drizzle in the olive oil, until the dressing thickens to about a pancake batter consistency.

Season with salt and a very health dose of freshly ground pepper.
For the Salad
Preheat your oven to 400°F.

Lay your baguette slices on a large baking sheet. Drizzle with olive oil on both sides. Season with salt and pepper. Bake in the oven for 20 minutes, flipping the slices once halfway through. Take them out of the oven allow to cool, and roughly chop the slices. Set aside.

Meanwhile, heat a medium fry-pan over medium heat. Add the bacon, and fry until crispy, flipping once during cooking. Remove to a paper-towel lined plate to cool.

Assemble the salad: Arrange the Romaine lettuce on a large serving platter. Top with the bacon and the baguette croutons. Drizzle the dressing over the lettuce and toppings. Top with shaved parmesan cheese, and serve.
Nutrition
Serving:
1
cup
Calories:
381
kcal
Carbohydrates:
26
g
Protein:
12
g
Fat:
26
g
Saturated Fat:
6
g
Polyunsaturated Fat:
3
g
Monounsaturated Fat:
16
g
Trans Fat:
1
g
Cholesterol:
40
mg
Sodium:
576
mg
Potassium:
347
mg
Fiber:
3
g
Sugar:
2
g
Vitamin A:
9260
IU
Vitamin C:
5
mg
Calcium:
274
mg
Iron:
3
mg
Jump to: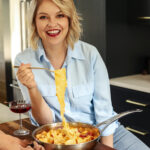 Hi, I'm Cara! I'm a food writer, journalist, and recipe developer. I'm obsessed good food, good wine, good cocktails and entertaining. I've picked up a few tips over the years, and love sharing them with others.